Enhancing Teaching & Learning In Colleges
College of Humanities (CHUM)
Academic Monitoring and Support
The AMS programme in the School of Education, Edgewood, in the period June 2018 to June 2019, kicked off with several student academic monitoring support activities and programmes specified by the College of Humanities. Students' academic monitoring support programmes and activities in the School involved anticipating, understanding, and responding appropriately to the needs of all students in ways that made support for them easily accessible. Particular attention was given to supporting first-year and "at-risk" students. In the report period, a full range of the intervention activities, both monitoring, and mediation aimed at supporting the students, included academic counselling, workshops, mentoring, curriculum advice, exam support, mentor training, psychosocial and academic referrals and information sessions.
In support consultations with students emphasis was placed on encouraging their active responsibility for their academic career. The AMS aimed at making every support it provided for students a scaffolding exercise that encouraged and involved them in finding solutions to their academic problems. The AMS worked in close collaboration with the School Academic Leader for Teaching & Learning, the student counsellors, the academic development officers, the Writing Place tutors, the disability unit, the College office, the student residence life and housing department and others to target holistic responses to the students' support needs.
The AMS recognized that an empowering support experience for all students in the School is important for their success. It also recognised the need for a collective role in harnessing the myriad support services that are available to the student in the College. Therefore, the role of coordination over this period centred on providing for the student a bouquet of programmed support activities that matched collective and specific needs.
In particular, four critically important elements of support activities that were frontline AMS programmes made the most impact on students:
Student academic development was enhanced through the weekly AMS workshops for first-year students, which aimed at enabling their understanding of how studies and life on campus could be successfully negotiated;
Context-relevant, meaningful, transformational mentoring relationships and networks through the AMS Mainstream Mentoring Programme aimed at support that benefited mentees and mentors;
Students' academic progression was helped by academic development officers and specialist tutors who used monitoring mechanisms, appropriate academic counselling, curriculum advice, referrals and specialist tutorial sessions to support those who underperformed;
Supporting first-year experience that best matched the needs of students in the School through extended year-round orientation with dedicated first-year students' mentoring and programmes.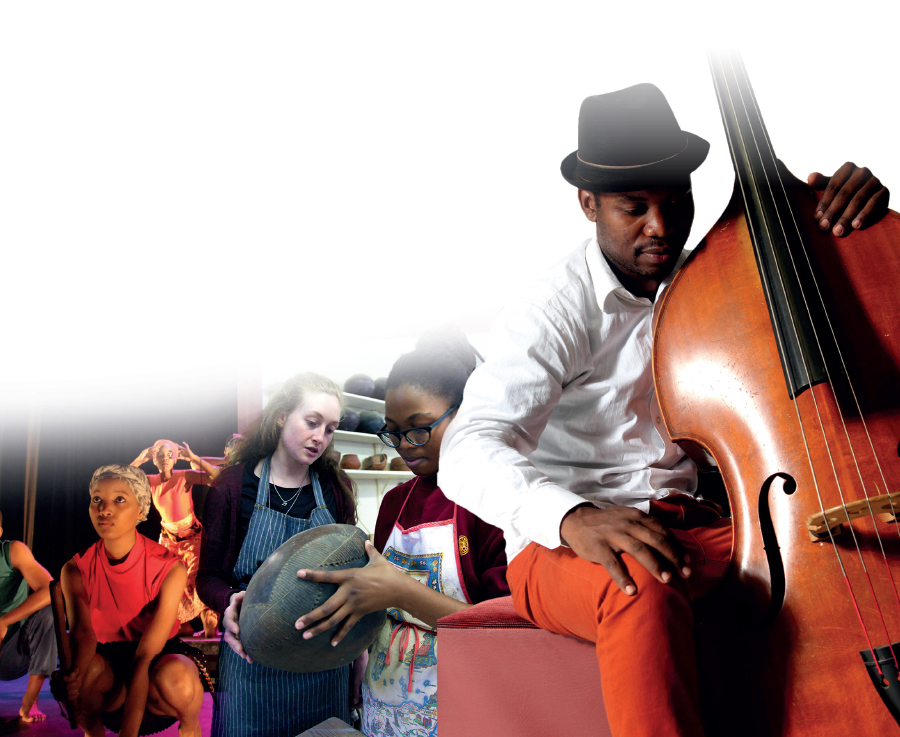 AMS Workshops
In the period June 2018 to June 2019, 18 workshop activities and sessions were provided for first-year students in the School. Nine of these workshops were in the second semester of 2018 and nine in the first semester of 2019. The total recorded attendance at these workshops was 3428 students, which means an average of 239 students attended and benefited per workshop. Workshop sessions were facilitated by the staff of the College student support office, academic development officers, lecturers, and the AMS Coordinator. A few invited guest facilitators and motivational speakers also presented sessions.
Workshop themes included study skills, academic referencing, learning spaces in the 21st century and stress management, and aimed to support students in developing a toolkit to help with their adjustment to learning at University. The workshops involved hands-on activities and interactive mentor-led group sessions that focused on inculcating skills and disseminating information. Separate sessions also provided for first-year students' questions and answers on concerns and challenges of coping with studies and life on campus. Feedback from students and mentors indicated that this intervention was rated highly in terms of relevance and student experience.
AMS Mainstream Mentoring Programme
Peer mentoring support was provided for all first-year students in the School. Each of these students was assigned to a mentor for support throughout their first year of study. Likewise, all "at risk" or underperforming students in the School were assigned a peer mentor too. In total, 84 students, meticulously selected, served as student peer mentors in the School during the period reported. Twenty-nine of these were mentors in the second semester of 2018 and 55 in the first semester of 2019. In terms of appointments, 35 of 84 mentors were paid and 49 were volunteers.
On the other hand, the mentoring programme served an estimated 1 332 student mentees, including first-year students and "at risk" students in the second semester 2018 period, which indicates a mentee/mentor ratio of 46:1. Similarly, an estimated 1 718 student mentees including first-year students and 'at-risk' students were served in the first semester 2019 period, which means a mentee/mentor ratio of 31:1. However, the recorded active mentee participation in the mentoring programmes and activities for the whole period June 2018 to June 2019 was 1 397 students.
This means that the mentee/mentor ratio for the period was 16:1. However, in addition to specifically assigned mentees, mentors provided drop-in mentoring support that served the broad student population in the School at the venue S202 from Monday to Friday 8h00 - 14h05. In order to prepare and strengthen them for their role, seven mentor training sessions were provided for all mentors by the student support services in the College and the AMS coordinator, in addition to regular debriefing sessions, meetings, team building and reporting activities. Mentors also attended AMS workshops and events at the College called by the Dean for teaching & learning.
Mentors worked with their mentees primarily to support them with learning skills, adjustment challenges, coping with mediating their learning by using Moodle and other IT tools, and identifying the need for and how to seek advisors and counsellors when they were in distress. Mentors in this period were outstanding achievers. Besides performing with excellence in their own academics, several of them also won awards and commendations, both at University level and College and School levels. Several of them were among the 40 most outstanding students at UKZN in 2018. Again, due to their excellence, three of our mentors were also among seven students selected to represent the School of Education at a global EPIZ study trip programme in Berlin in August 2018.
Academic Advising and Tutoring
The AMS worked with the Academic Development Officers (ADOs) in targeting an enhanced environment of support for students requiring academic counselling and curriculum advice in the School. Through a process of effective liaison between ADOs and the AMS offices, efforts were made to effectively identify and mediate, using one-on-one sessions and appropriate referrals, the intersections of the student's academic needs and psychosocial support needs. In this way, the AMS was able to deal with students' support needs in a more holistic way, and by so doing improved their support experience.
In the period under report, a total of five ADOs were appointed in the School. Three were appointed in the second semester of 2018, and two in the first semester of 2019. The ADOs provided academic counselling for a total of 879 "at risk" and underperforming students, in addition to providing curriculum advising, information sessions and referrals across the board for all other students. In addition to the ADO services, four specialist tutors were appointed to provide extra tutorial support to students in the School in this period. Specialist tutors provided workshop sessions for specific students and on specific topics and areas where the struggling students needed extra tutorials.
In addition, specialist tutors worked together with mentors to provide exam revision tutorials and mentoring support to students in modules identified by mentees and other students as needing that. In total, the specialist tutors provided two workshop sessions, 21 group and individual consultations and five exam revision sessions during this period. Likewise, three Writing Place tutors worked in the School in the first semester of 2019. Writing Place tutors provided academic writing skills and practices that deepened students' understanding of academic literacy and assisted them with producing quality academic essays and text. Their role also included introducing the students to academic writing sources and effective use of referencing styles. The Writing Place tutors assisted in facilitating one AMS workshop on academic referencing in this period and recorded 29 consultations.
First Year Orientation and Programmes
In addition to the other AMS programmed interventions, the first-year experience in the School usually commences with the week-long orientation programme of the College of Humanities. During this period reported, the 2019 orientation programme for first-year students recorded some successes. Orientation mentors, duly trained, were on hand to provide guidance and support to the first-year students in settling in and getting ready to begin their studies. Thirty-five orientation mentors were appointed and assisted the students with familiarisation with the Edgewood Campus, attendance at orientation sessions, registration, understanding the timetables and finding their various lecture venues.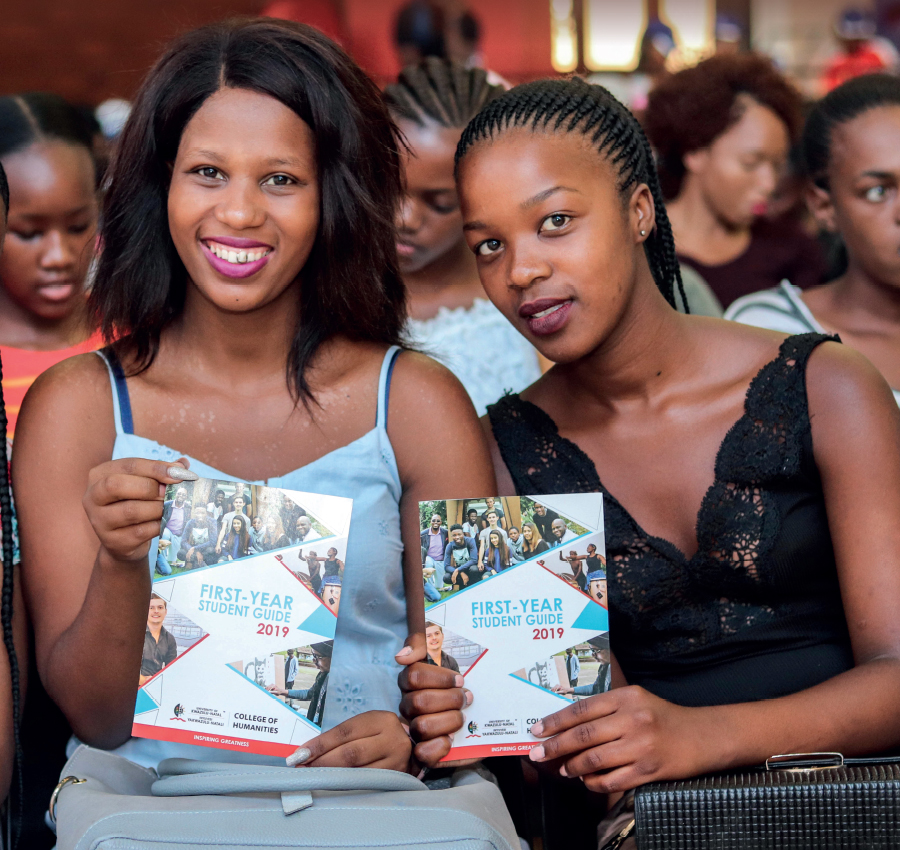 The mentors also supported the students in the LANS with basic computer appreciation and signing up for Moodle training. Mentors were on hand to assist the student representative and Sport Administration in Edgewood to organise the Sports day event, which was a success. Beyond the orientation week, the AMS Mainstream mentoring included 15 mentors dedicated to first-years students throughout the year.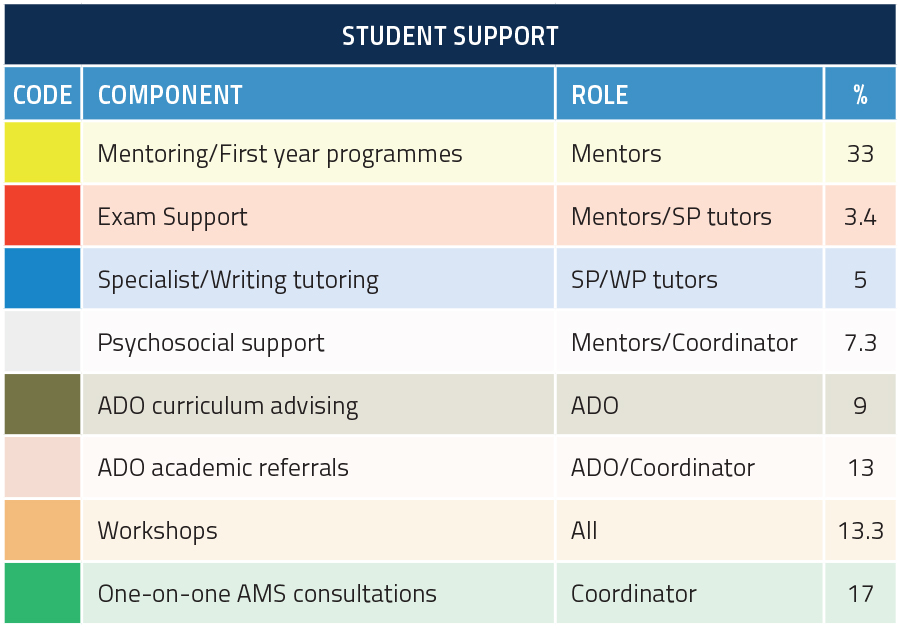 Table 15. Breakdown of student support as components,roles and percentages
First-year experience in SOA: The play, which was workshopped and guided by the students and their experiences, primarily focussed on the first-year experience. It portrayed the following as universally applicable:
Alienation of the university experience in the first year
Lack of information or sound academic / curriculum advice
Mentors were arrogant and sexually harassed first-year girls
Language barrier a problem
Pressure to "look" a certain way
Data collected from the process and the performances is being processed for the purposes of research and publication.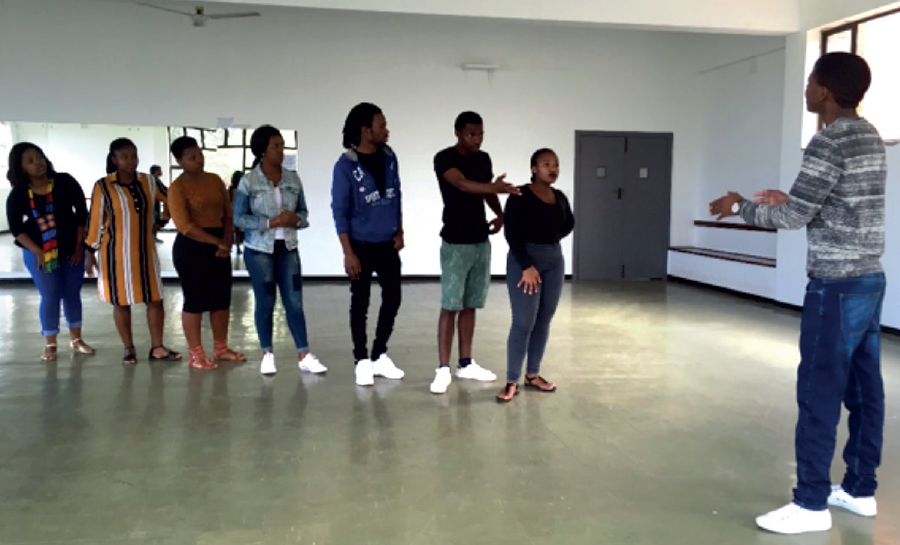 Students depicting first-year students waiting in line and trying to negotiate with a mentor
The Writing Place
The Writing Place (WP) is designated as an academic support service within the College of Humanities, Teaching & Learning Unit that is tasked specifically with improving the academic writing and critical thinking skills of students, through an emphasis on essay/ assignment structure and understanding of academic concepts.
The primary function of the WP is to provide one-on-one academic writing tutoring for Humanities students at WP Drop-in Centres located on the Howard College (Main EG Malherbe Library), Edgewood (S202 Main Tutorial Building) and Pietermaritzburg (B6 Old Main Building) campuses respectively. At these 45-minute consultations, a trained tutor works through a student's essay in discussion with them to assess whether the student is addressing all parts of the essay question and to provide suggestions on how structure and grammar can be improved. Correct referencing techniques and the consequences of plagiarism are also explained. Tutors assess the essay in its entirety for structure and cohesion but they do not edit each sentence for grammatical problems. Students who have serious grammar problems are encouraged to return for follow-up sessions on the premise that practice increases proficiency. For serious content-related problems the student is referred to their course tutor and/or lecturer. At the initial consultation, the student is also provided with a step-by-step academic writing guide, which includes information on referencing and exam and test writing techniques.
Students were recruited by the tutors during the University's orientation week and were familiarised with the WP services. The Drop-in Centre opens a week after lectures have begun in the first semester, so that students can get assistance from the beginning. The WP does not only assist with essay writing, it also helps the students to break down the topic at hand if they are facing difficulties in comprehending their assignments, although the final authority is the lecturer of the module concerned. Although the WP is for Humanities students, those from other Colleges do also consult.
The Drop-in Centre was open from 4 February 2019 to 31 May 2019 and student tracking registers indicate that during the 12 weeks of academic operations of the first semester of 2019, tutors individually consulted with 404 students, from a wide range of different disciplines within the Humanities College and from other Colleges. This equated to 34 students per week receiving individual extracurricular assistance with their academic writing skills.
Apart from one-on-one sessions, the WP's secondary initiative is the voluntary academic writing workshop series. The aim of these workshops is to guide students through a series of weekly 45-minute interactive workshop sessions designed to assist students with understanding essay questions, planning essay structures, constructing coherent arguments and referencing techniques. These workshops are based on the WP writing guide and facilitated by the tutors. Academic writing styles, academic language and correct referencing techniques are addressed.
Over the course of 2019 first semester, the WP conducted voluntary academic writing workshops for Humanities undergraduate students. These were held twice a week during the forum periods and would not have been possible without the collaboration of the WP unit and the College Academic Development Officers. The ADOs would market these workshops to students in their respective Schools, which made it easier to reach as much students as possible. The workshops were also advertised on the University website (notices page), Facebook WP page and posters around campus.
In addition to the attention given to the undergraduate students, the WP has also organised and run academic writing workshops for postgraduate students. Though the attention was aimed at Humanities students, students from other Colleges also attended. The workshops were divided into three series. The first workshop aimed at developing topics and proposals, the second was aimed at thesis development writing (focusing on literature review and methodology sections) and the last focused on data analysis (both qualitative and quantitative). A total of 30 masters students attended these workshops from the first series to the third.
The WP also organised software training workshops for postgraduate students. The software programs are NVIVO and SPSS. A total of 56 students attended the NVIVO training, while a total of 50 students attended the SPSS training series.
Curriculum Development
School of Education
The new BEd and PGCE is being offered for the first time in 2019. In 2018, the Teaching & Learning office managed a successful roll-out plan for the first offering in 2019.The curriculum adhered to all the requirements as stipulated in the MRTEQ policy.
The Discipline of early Childhood education is developing a new qualification, a Bachelor of Education in Early Childhood Care and Education. The qualification will produce teachers of children from birth to four years of age. The development of this qualification is commissioned by the Department of Higher Education and Training and is funded through the European Union project. The qualification is currently under review by internal structures of the University. The programme seeks to address challenges facing the Early Childhood Care and Education (ECCE) sector, generally known as Early Childhood Development Centres. Qualifications offered by the institutions are currently pitched at level 4 and 5. Students who have a passion for studying ECCE at a higher level are not accommodated. As a result of this challenge, many ECCE educators are underqualified for the work they do and the majority are unqualified. This limits their potential and the ability to enhance learning of children under four years.
School of Arts (SOA)
The SOA is excited by new developments in Music, which is housed within the Performing Arts Cluster. Music has drastically reduced the number of its offerings and re-templated a new Bachelor of Arts in Music plus a one year Foundation programme. This 1 + 3 model will allow students with below 28 points to enter the Music programme and then progress on to the BA in Music. This will streamline the programme and allow for specialisations.
Further, from 2020 the Diploma in Music (DIPJAZZPOP, DIPMUSICPERF and ADVDIPMUSIC) will be phased out of the Music programme. The BA in Music has served at CAAB, the Foundation and confirmation of the phasing out of the Diploma programmes will serve at the next CAAB. They have served at all other structures. Music is hoping for a 2020 delivery of the BA in Music.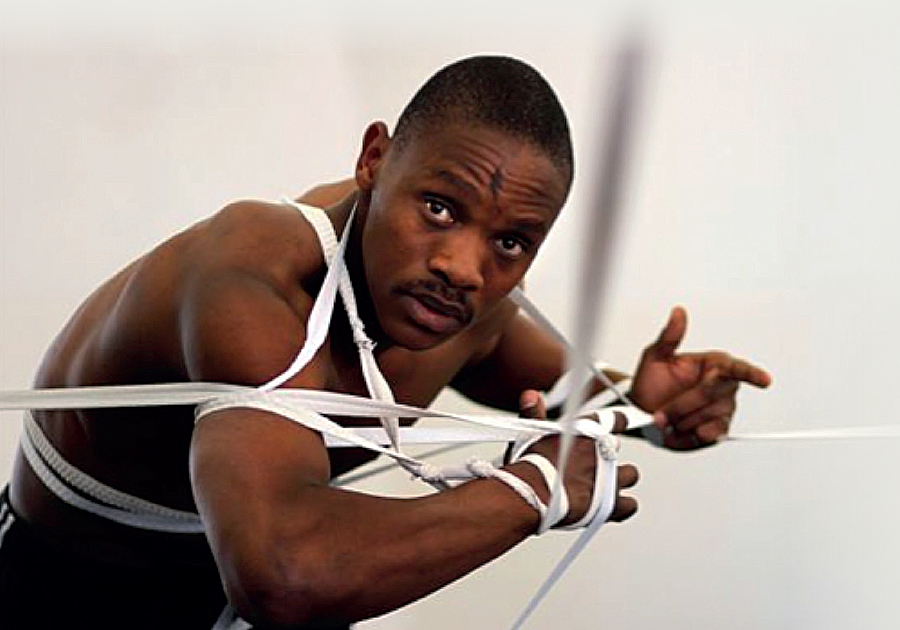 Dancer/Choreographer Fana Tshabalala – Artist in Residence, SoA 2019
Melon Artists in Residence
The SOA was successful in securing Melon-funded Artists in residence who have been contributing to various disciplines in the School. The rollout over 2018 / 2019 included:
Dr Mhlambi (Literary Arts)
Ms Ayanda Halimana (CCA)
Mr Mbuso Khoza (Music)
Mr Fana Tshabalala (Drama and Performance Studies)
Language Transformation
School of Education: isiZulu Champion Project
The following module course outlines are being translated from English to isiZulu.
Mathematics for Educators 310 ( EDMA310)
Primary Mathematics Education 210 (EDMA211E1)
Computer Science Education Method 2 (EDCM301)
Information Systems Education 410 (EDIS410)
Numeracy in the Early Years (EDPY110)
Understanding Child Development (EDES 202)
Education Psychology (EDES220)
Perspectives in Human Nature (EDPY101)
Drama Education and Creative Arts
School of Arts:
The lauded University Language Policy developed by the LPDO aims to embrace and foster functional bilingualism in the South African academic space. This policy requires for its implementation the rollout of basic isiZulu and mother-tongue development on the one hand and English language development on the other. All of this delivery resides in the School of Arts. The School is therefore central to the implementation of a major vision for the University.
Bilingual Modules
The School of Arts is delivering modules in which:
Course content is in both isiZulu and English
Lecturers and tutors switch between English and isiZulu in the classroom
Assessments are in isiZulu and English.
The following modules were identified for translation of content on Moodle:
MESCS202
AHIS110
DIGA110
DRAM201
ENGL101
This was done and this content is on-line. Further, lecturers who are isiZulu-speaking are also writing bilingual course descriptors and essay questions for Moodle. One such module is DRAM102.
isiZulu-speaking tutors, which comprises the majority in the School, also tutor in isiZulu. Interestingly, a challenge for the School has been complaints by some non-isiZulu speaking students (both non-Nguni African students and other students), who find it challenging to follow. The School is in the process of discuss the possibility of students being able to select a language of choice for their tutorial.
Drama and Performance Studies in The School of Arts receive0d the College of Humanities award for "Best bilingual, transformed and Africanised curriculum" for the level two module "Introduction to Applied Theatre". In this module, which is coordinated by Dr Miranda Young-Jahangeer, 50% of assessment is in isiZulu. .
School of Built Environment and Development Studies: The SoBEDS has a Language Champion, Dr. Hema Hargovan, who facilitates the implementation of the University Language Policy within the School.
Bilingual Tutorials
The SoBEDS has made tutorials available to students in both English and IsiZulu, particularly at first-year level. These are facilitated by our peer mentors. The modules that offer bilingual tutorials are:
Introduction to Community Development Theory – CMDV 101
Institutions in Community Development – CMDV 104
Development Theories – CMDV 203
Curriculum Transformation
Issues of social justice, identity, decolonisation, culture, and gender-based violence are integrated into the module content. In this way, it is hoped that students will engage critically with these issues and address them as individuals, families, communities, and societies to create better and safer societies for all.
College Curriculum Transformation Project
The College of Humanities, through the office of the College Dean of Teaching & Learning, Professor Ruth Hoskins, received funding made available under the University Capacity Development Programme (UCDP), to engage with issues of decolonisation and curriculum transformation. Led by Professor Labby Ramrathan, several activities unfolded during 2018 and 2019 to sensitise academics and students to curriculum transformation. This was underpinned by a call for decolonising the Humanities curriculum.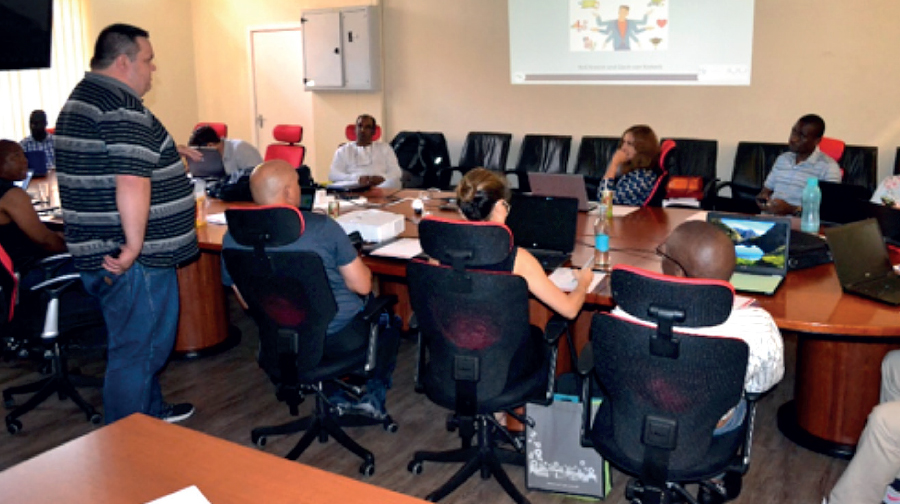 Blended Learning workshop held on the Howard campus.
Since the inception of the project, several activities have unfolded on the Howard College, Edgewood and Pietermaritzburg campuses. One successful initiative was the Talking Circles on curriculum transformation and decolonisation. Another was the Blended Learning workshops, where academic staff were the target audience and a series of participatory student theatre projects, conceptualised and performed by the Drama students, aimed at engaging the broader student population.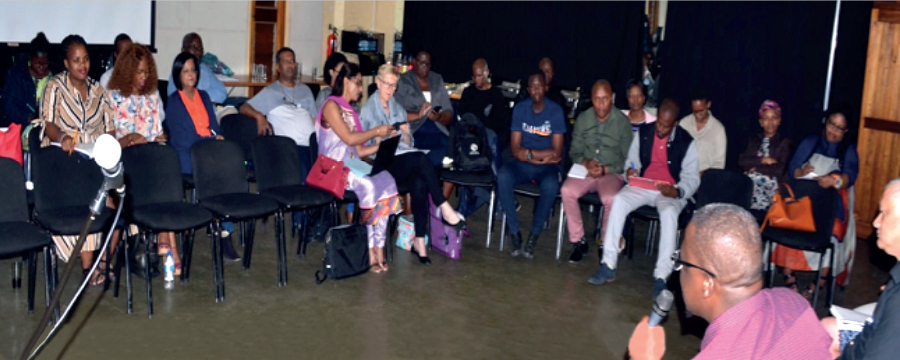 Professor Ndlovu-Gatshen (UNISA) addressing Edgwood academics at the Talking Circles workshop on curriculum transformation and decolonisation.
At the three Talking Circles workshops, the panellists were Professors Lesley LeGrange (Stellenbosch University), Sabelo Ndlovu-Gatsheni (UNISA) and Petro Du Preez (North West University), all of whom have published extensively on curriculum transformation and decolonisation in higher education in South Africa. Robust discussions ensued among the panellists and academic staff on what is meant by decolonising the curriculum in higher education, why the curriculum should be decolonised, how this can be done, the role of academics in this process, associated challenges and possible lessons that can be learnt from Africa and the world.
The Blended Learning workshop, facilitated and presented by Professor Labby Ramrathan, Mr Gavin van Niekerk (Stellenbosch) and Mr Niel Karmm (Stellenbosch) was held on all three campuses for academic staff, exposing them to the possibilities of using blended technologies within the Moodle platform to support their teaching of modules. Further exposure to blended learning possibilities were by Dr Joseph Jere from the College of Law and Management Studies and Mr Jasper Cecil, UKZN Technology Enhanced Learning (UTEL).
Also linked to the project was student-driven participatory theatre, in which third-year drama and performance studies students conceptualised, produced and enacted a play on some of the challenges and problems which confront first-year students as they navigate university spaces. The play, entitled Learn, Unlearn, Relearn – Sifuna Ulwazi, was produced and directed by UKZN lecturer Dr Miranda Young-Jahangeer and performed on the Howard, Edgewood and Pietermaritzburg campuses. The 15-minute play was followed by a discussion in which the student audience on each campus participated in a dialogue on curriculum transformation and decolonisation, focusing on their experiences of the curriculum, their challenges and expectations of a decolonised curriculum.
School of Arts:
The School of Arts has been looking quite seriously at curriculum transformation in the 2018/2019 cycle for teaching & learning.
UCDP funded an initiative to enable 18 level three Drama and Performance Studies students, as part of their elective course, "Popular Participator Theatre", to use their own experiences as students to stage a play which opened up conversations about curriculum transformation to the broader student population. It was felt that it was both strategic and important that UKZN students were included in the conversation of curriculum transformation at the outset. The play and post-performance dialogues occurred on:
28 September 2018 – Open Air Theatre Howard College
28 September 2018 – Edgewood Gcina Mhlope Studio Edgewood
5 October 2018 – Colin Webb PMB
Curriculum transformation was also incorporated into a teaching & learning research initiative led by Professor Ramrathan.
School of Built Environment and Development Studies (SoBEDS):
The School was tasked with recommending two second-semester first-level modules in the School of Built Environment and Development Studies to be included in this Curriculum and Decolonisation Project. The following modules were identified:
Institutions in Community Development (CMDV104)
History of Architecture 1B (ARCH106)
The criteria used to identify these modules were the high enrolment numbers in each of the selected disciplines at first-year level. The idea here was to ensure that more students benefitted from the process.
School of Social Sciences (SOSS):
The SOSS has positioned itself to engage with decolonising the curriculum by embracing diverse epistemologies emanating from the students and society that we serve as a University. In line with this, two first-year modules, namely SOCY 102 (Introduction to South African Society) and POLS 102 (Introduction to Global Politics) have been forwarded for revision in the College of Humanities Curriculum Transformation & Decolonisation Project.
The engagement with decolonisation has also extended to the cluster level. The Culture Cluster, in conjunction with the School of Social Sciences, engaged in a workshop on decolonisation of the curriculum in May 2019. Professor Relebohile Moletsane, the JL Dube Chair in Rural Education in the School of Education, conducted the workshop. Themes covered included:
The Concept of decolonisation
Curriculum and decolonisation
How to decolonise the curriculum
The essence of the workshop was that decolonisation of the curriculum requires that lecturers are aware of the "dangers of one-sided stories" and engage in multiple perspectives in their teaching. Staff members also agreed that decolonisation was not about replacing western epistemologies but rather a collaboration of diverse knowledge. This workshop has assisted different clusters in the School in integrating decolonised pedagogy, content and teaching methods in their curriculum.
The International and Public Affairs Cluster also highlighted the issue of decolonising the Political Science curriculum at the regional South African Association of Political Studies (SAAPS) conference, which it hosted in 2019. Professor Siphamandla Zondi, who is chair of both the South African Association of Political Studies (SAAPS) and South African BRICS Think Tank Council (SABTT), gave a poignant keynote address which raised critical questions about the race to decolonisation. Members of staff form the International and Public Affairs Cluster participating in the Decolonisation Project raised critical questions about the rationale for decolonisation, and the ideal approach to address the issue in their curriculum without "throwing the baby out with the bath water".
Community Engagement
The Mathematics Department teamed up with MIET AFRICA and organised lessons for practising educators over two weekends. Further sessions are still going to occur in the next few months. The computer sector currently has a professional development programme for IT teachers. Focus is on the Practical Assessment Task (PAT) that was requested by the subject advisor. Other community engagement activities are highlighted below.
United States – SoBEDS dialogue on best practices for affordable housing
UKZN's SoBEDS held discussions with the United States' National Association of Housing and Redevelopment Officials (NAHRO) on the best practices for social and affordable housing.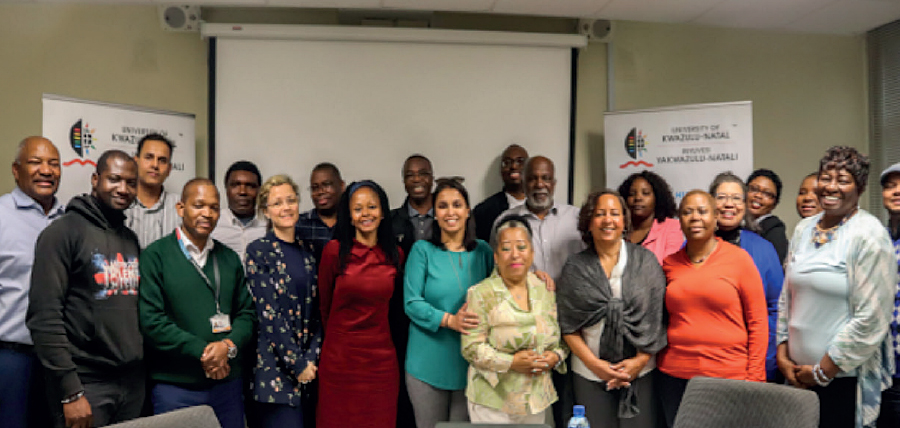 UKZN's SoBEDS and NAHRO representatives hold discussions on the best practices for social and affordable housing.
Town Planning Academic in AESOP Planning for Transition Conference
Dr Hangwelani Magidimisa-Chipungu of the School of Built Environment and Development Studies (SOBEDS), participated in the Association of European Schools of Planning (AESOP) Planning for Transition Conference, held in Venice, Italy.
The College Academic and Operations Manager participated in the 20th Annual Education Management Association of South Africa International Conference in Sun City.
Colleagues in the SoBEDS presented papers at the 20th Annual International Education Management Association of South Africa Conference, held on 12-15 September 2019, in Sun City. Dr Sandile Mbokazi and Dr Phumelele Zakwe co-presented a paper entitled "Empowerment practices of professional services staff at the University of KwaZulu-Natal". Dr. Sandile Mbokazi presented a paper entitled "The struggle to involve traditional leaders in the improvement of KwaZulu-Natal schools continues! Are we Winning?" Dr. Phumelele Zakwe presented a paper entitled "Improving employee retention strategies in the institutions of higher education in Durban metropolitan areas".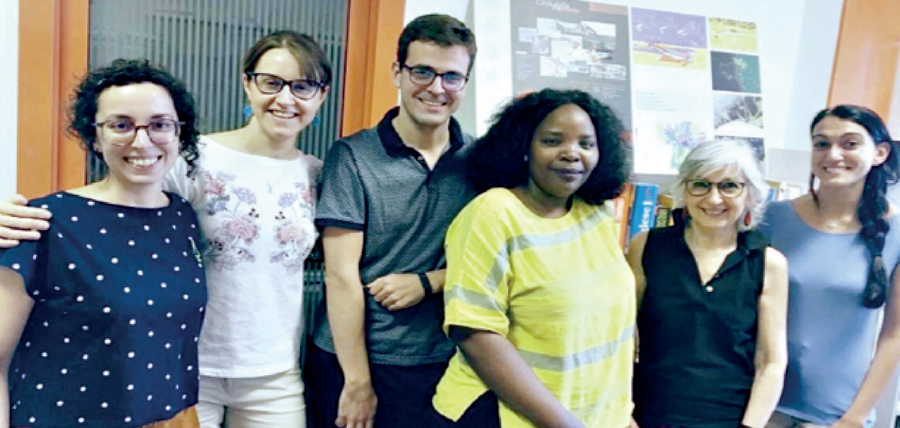 UKZN's SoBEDS participate in the AESOP Planning for Transition Conference, Italy.
Partnership with sector government departments and community-based organisations
The SoBEDS has signed Memorandums of Understanding with a number of government sector departments and/or entities, such as the KwaZulu-Natal Legislature and other community-based organisations, such as the Gugu Dlamini Foundation and the Virtual State. These engagements are part of SoBEDS curriculum, e.g. the Community-Based Learning module for the third level.
Innovative Teaching – Blended learning
This is taking place across many modules in the form of links/recourses via the Moodle platform and the use of technology where possible. Some Maths and Computer Science courses are taught using dynamic computer software as well.
The blended learning approach is being used with postgraduate students and an international academic was invited to conduct a workshop with them in August 2019. SOA are active in engaging with the broader community and bringing community experts into the learning space for talks and exhibitions. Fine Arts, Drama and Performance Studies and Music stand out in this regard. Media and Cultural Studies at Howard College is also experimenting quite successfully with the blended-learning approach. This has been spear-headed by Dr Anusha Sewchurran. Many of her lectures have been recorded through the Audio-Visual Unit and are available for students through Moodle.
TAU (Teaching Advancement at Universities) Fellowships Programme
The TAU programme aims to contribute to the enhancement of teaching & learning in higher education, by supporting the development of a cadre of academics across institutions and disciplines as scholars, leaders, change agents and mentors in their fields. A further aim is to enhance the status of teaching by popularising understandings of teaching excellence in varied institutional and disciplinary settings.
The residential programme, which runs over 19 months, promotes excellence in teaching & learning through individual projects in participants own settings, group projects and projects that drive systemic change. Participants are drawn from South African universities and are afforded opportunities to promote collaboration across universities and disciplines. It draws on the TAU principles of authentic learning and reflective teaching, and of collaborative learning, constructed around the three TAU Golden Threads: teaching excellence; the Scholarship of Teaching & Learning (SoTL) and becoming a change agent.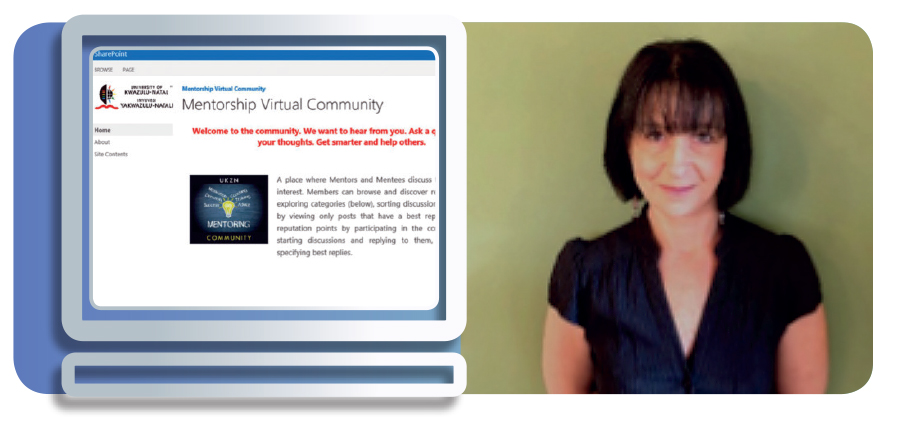 Dr Heidi Matisonn
Dr Heidi Matisonn, Academic Leader of Teaching & Learning in the School of Religion, Philosophy & Classics, was part of the 2018/2019 TAU cohort. Her individual project was to develop a "Mentorship Virtual Community" (MVC) - an online discussion forum aimed at providing support for and the development of teaching excellence among staff at the UKZN. The idea was to provide a space where staff could share insights into, resources for, and experiences of, teaching & learning — one that focused less on productivity, efficiency, and effectiveness and more on the needs and lived realities of staff.
The MVC provides an opportunity for staff to seek out and offer solutions that are flexible, relevant, and context-specific. The voluntary MVC has been piloted and is due to go live in early 2020.
Professor Rubby Dhunpath, the Director of Teaching & Learning, who is also an Advisor and Mentor in the TAU Fellowship indicated that traditionally, mentorship in higher education has typically occurred formally, between individuals through the 'master-apprenticeship' model. Acknowledging the complexity inherent in the practice of mentoring and the attendant power relations, the proposed MVC model is a departure from the individualistic performance management approach typically associated with the dominant master-apprenticeship model - to a safe democratic online space which allows for multiple voices and perspectives to enrich the mentoring experience.
Awarding Teaching & Learning Excellence
Student Academic Excellence Awards
The School of Built Environment and Development Studies has held Academic Excellence Awards since 2017. These are meant to celebrate exceptional student performance in our School while encouraging students to improve on their performance.
Architecture Awards and Scholarships
The School of Built Environment and Development Studies has held Academic Excellence Awards since 2017. These are meant to celebrate exceptional student performance in our School while encouraging students to improve on their performance.
Career Development Workshop
To assist students who are ready for the job market, the School of Built Environment and Development Studies has hosted annual career development workshops since 2018.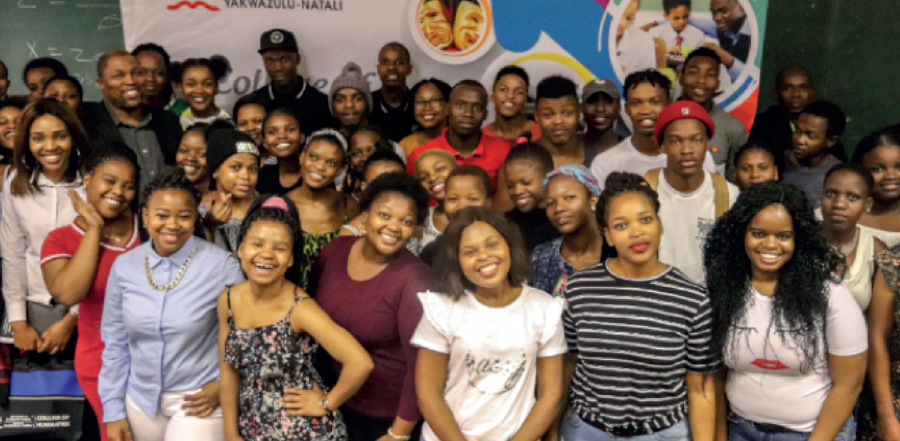 Peer Mentorship Programme
Student Assembly in the School of Arts
To enhance student experience in the School, quarterly meetings are held with class representatives from all modules to discuss issues pertaining to students and their campus experience.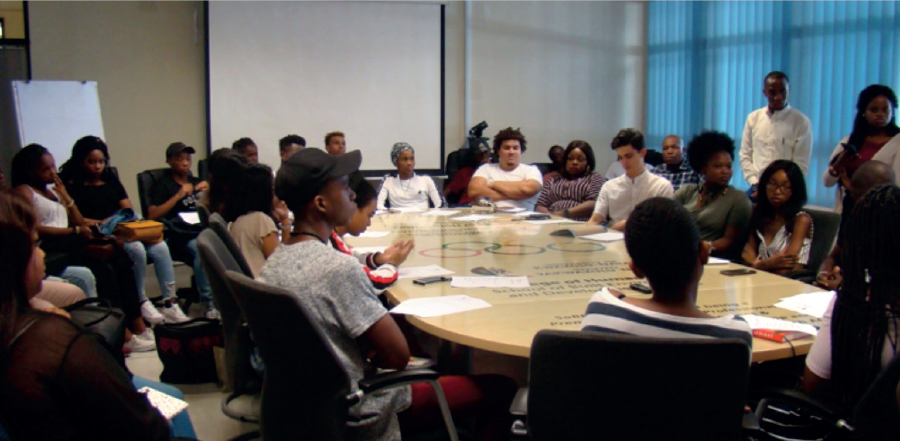 Student Assembly Meeting
Publications
Kathleen Pithouse-Morgan, Daisy Pillay (UKZN) and Claudia Mitchell (McGill University and Research Associate in the School of Education), recently published a book with Springer titled, Memory Mosaics: Researching teacher professional learning through artful memory-work. The nine chapters in the book build on connections between memory-work, the arts, and professional learning research, to offer imaginative and expressive explorations of teacher-researchers' memories and histories in relation to wider social and cultural concerns, and across diverse contexts. Each of the nine chapters was composed by juxtaposing several "mosaic" pieces written by 22 new and emerging scholars in South Africa and Canada. These teacher-researchers have diverse educational backgrounds and are teaching various subjects in schools and higher education institutions. Their work demonstrates a range of arts-based research practices and sources, including collage, film, drawing, narrative, poetry, photography and storytelling.
Acknowledgement and Disclaimer
Maryann Francis, Nombuso Dlamini and Lihlithemba Sisanda Sosibo