Quality Promotion and Assurance
Quality promotion and assurance is integral in supporting the goals set out in the University's strategic plan. To this end, The Quality Promotion and Assurance unit (QPA) at UKZN provides an important service to teaching & learning endeavours in four main areas: qualifications, programmes, and short courses, external quality reviews of programmes and units, and institutional research and student evaluations of teaching.
Qualifications and Programmes
In terms of qualifications, programmes and short courses, QPA supports academic staff to complete the necessary programme and module templates and to ensure that all the requirements for both internal and external approval are met. The unit has developed guidelines for completing the templates and these are available to all academic staff on the University's innerweb.
During 2019, four new programmes that align directly with UKZN's goal to advance African scholarship and address present societal needs were approved by the Department of Higher Education and Training, accredited by CHE and registered by SAQA. These programmes are:
Bachelor of Social Science Honours in Population Studies
Bachelor of Arts Honours in Applied Ethics
Postgraduate Diploma in African Indigenous Knowledge Systems
Master of Science in Engineering in Waste and Resources Management
Re-curriculation to ensure that the qualifications and programmes offered by UKZN are relevant to meet the needs of present-day society is on an on-going project. In the past 18 months, QPA staff has worked with a number of Schools to update and amend their programmes. In some cases, the focus has been on updating content, while in others attention has been given to revising teaching and assessment methods.
Qualification and programme work also involved keeping a close eye on the University's Programme and Qualification Mix (PQM) to ensure that all programmes are approved and correctly listed. The PQM is a list of all the programmes that are registered with the e and Training and which UKZN can legitimately offer. In the past 18 months, a considerable amount of time has been devoted to encouraging those Schools whose programmes were not aligned to the HEQSF to revise them and develop new templates. The last date for enrolment for first-time entering students in programmes that are not HEQSF aligned is 31 December 2019.
As of July 2019, a total of 434 programmes are listed on the UKZN Programme and Qualification Mix, with masters degrees making up the largest number of programmes offered (Figure 6).
Reviews
Reviews of programmes, majors and units provide important opportunities for reflection, feedback and recommendations for improvements from peers external to the University. Reviews are conducted in terms of the Principles and Procedures for Quality Reviews (Senate approved 7 November 2012) and the QPA Manual for Quality Reviews. The review begins with the development of a Self- Evaluation report which forms the basis of the review by a panel. During the site visit by the review panel, interviews are held with various groups of stakeholders and a review report is then developed. On the basis of this, an improvement plan is developed and its implementation is monitored by the relevant university structures. In 2018, QPA conducted five reviews (Table 4).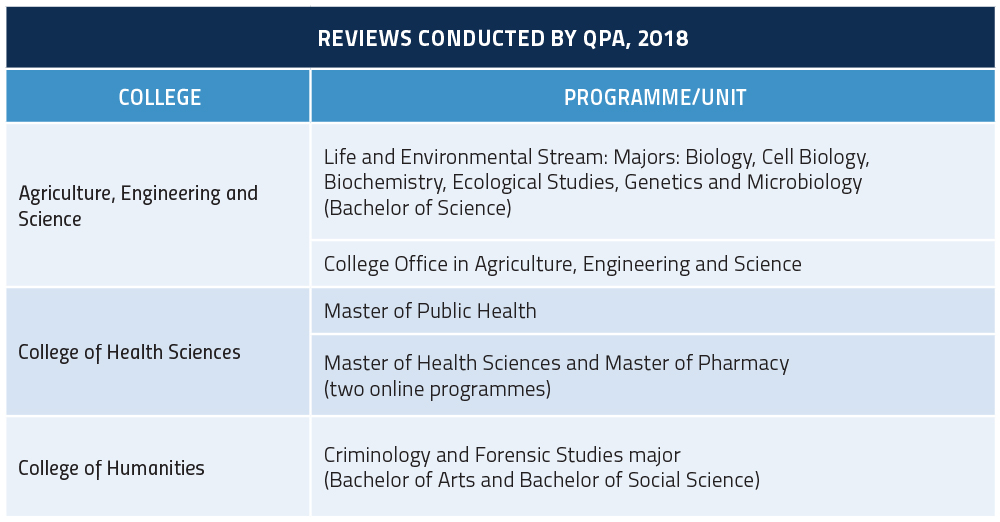 Table 4. Reviews conducted by QPA, 2018
In addition, QPA provides support to Schools preparing for external validation visits and accreditation of professional programmes by professional bodies. The following programmes were provisionally or fully accredited by professional bodies in 2018/2019 (Table 5).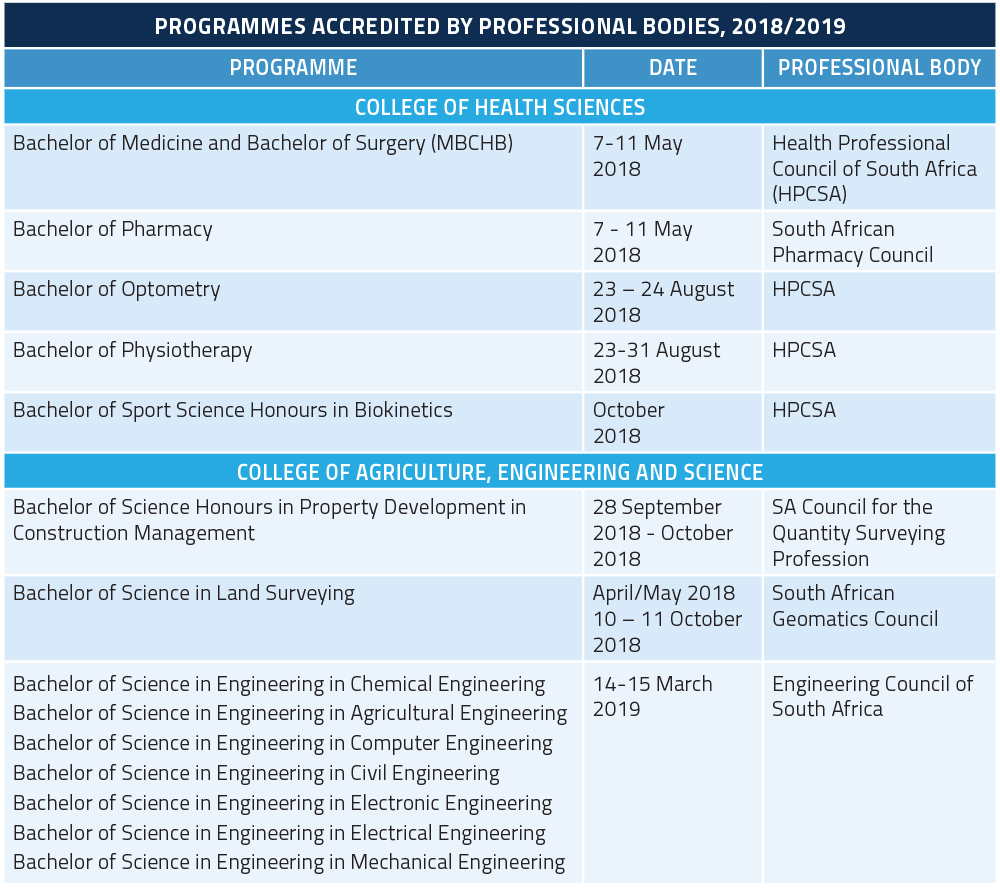 Table 5. Programmes accredited by professional bodies, 2018/2019
Institutional Research: Graduate Opinion Survey
UKZN's institutional research is conducted at various levels in order to provide information that supports institutional planning, policy formation and decision-making. QPA is responsible for collecting, analysing and reporting on graduates' perspectives on the quality of their educational experiences at UKZN. This survey covers a range of questions, which includes workload, the development of skills, teaching, assessment and facilities, and support and administrative staff. The survey also asks students about their level of preparedness for their careers and their current employment status.
Sixty-two percent (5416) of students who attended the 2019 graduation ceremonies completed the questionnaire. Most students were satisfied with the quality of the education and learning environment at UKZN (Figure 7).

Figure 7. Satisfaction with quality of education and learning environment at UKZN.
Most respondents were also satisfied that they had developed various skills while at UKZN (Figure 8).

Figure 8. Satisfaction with development of skills.
Respondents also provided useful feedback regarding their experiences of teaching (Figure 9)

Figure 9. Opinions of teaching staff
A total of 43.8 % respondents were studying further at the time of graduation and most of these were studying at UKZN, while 38% were in employment.
Student Evaluation of Teaching
Another important area of QPA work is student evaluation of teaching. Student evaluations of teaching are widely used at institutions of higher learning worldwide to provide opportunities for academic staff to reflect on their teaching and its impact. QPA assists in this regard by providing an unbiased and independent University-wide platform for such feedback.
A range of instruments are available to gauge the different aspects of teaching within the University – a student feedback questionnaire with core questions, a postgraduate supervision questionnaire, a professional teaching practice questionnaire and a professional practice supervision questionnaire. Student evaluation questionnaires can be completed online using Moodle or on paper.
In 2018, 2 693 taught modules were offered by UKZN. The number of modules offered in 2018 represents the number of active undergraduate and postgraduate modules with actual registrations. The total number of modules evaluated reflects the number of active modules evaluated for 2018, irrespective of the campus where the module is offered and the number of lecturers that teach in a particular module (Table 6). A comparison between the 2017 and 2018 statistics reflected an overall increase in the uptake of evaluations in 2018, where the overall evaluation percentage for UKZN modules increased from 47.5% in 2017 to 53% in 2018.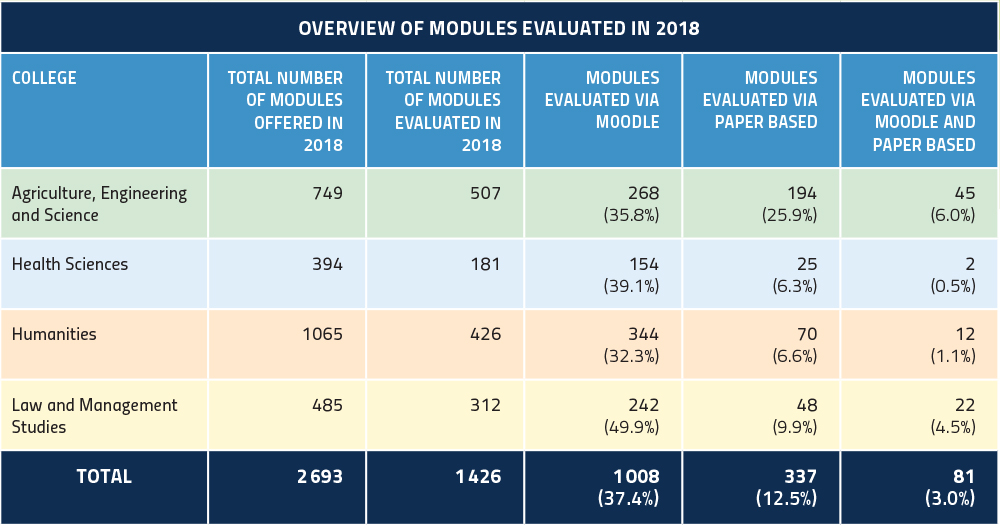 Table 6. Overview of modules evaluated in 2018
A source of concern has been the generally low response rates and the unit is engaging in research to explore this further. Other on-going projects include: improving the online systems by full automation of the postgraduate questionnaire, establishing a dashboard where it would be possible to monitor modules that have not been evaluated, their response rates and overall performance of the module, and the generation of feedback reports.