Enhancing Teaching & Learning In Colleges
College of Law and Management Studies (CLMS)
Curriculum Development and Transformation Initiatives
Curriculum development focused mainly on drafting and developing a doctoral curriculum, with particular focus on the Graduate School of Business and Leadership. A draft curriculum with associated materials/resources has been developed for piloting. Furthermore, Schools were tasked with streamlining current curricula and removing redundant modules. Steady, incremental progress has been made.
Curriculum transformation entailed a range of seminars presented by invited speakers and discussions around issues of decolonisation. Professor Sarojini Nader from the University of the Western Cape facilitated a series of workshops under the theme, "Teaching, research and community engagement in the context of curriculum transformation". Dr Matete Madiba from the University of Pretoria presented a seminar titled, "Navigating the Broad and Narrow Scope of Decolonialty and Decolonising the Curriculum". The focus was on initiating discussions with academics, specifically on building a common understanding of the push towards decolonising the curriculum and transformation through technology. Seminars and workshops across the three campuses where the College has a presence were the adopted methods. A series of focus groups with academics and technical staff led by Professor Manoj Maharaj initiated exploration of the concepts of eLearning and Blended Learning. Academics who attended the seminars, workshops and focus group sessions constituted a core of informed and capacitated staff.
The Writing Place
In 2018, eleven tutors and one coordinator were employed at the Writing Place. All of the tutors and the coordinator were postgraduate students (Masters and PhD students). Eight tutors were based on Westville Campus; two tutors were based at Howard College Campus (one allocated to Law and one allocated to Management Studies students) and one at Pietermaritzburg Campus. In the first semester of 2019, due to the increasing demand, sixteen tutors were appointed. Tutor training was conducted at the beginning of both the first and second semesters.
Number and type of consultations
Two thousand, nine hundred and nineteen students were seen at Westville Campus, 469 students were seen at Howard College Campus, and 334 students were assisted at Pietermaritzburg Campus in 2018 and 2019. The total number of students assisted across all three campuses was 3 722. Approximately 24% of students were seen at individual consultations, with the remaining 76% being seen during group sessions, and groups ranging from two to 10 members, as per lecturers' directives for certain assignments. The number of students seen at the Writing Place in 2018 and 2019 was an improvement over the numbers seen in 2017. This could possibly be attributed to increased awareness about the existence and nature of the assistance offered at the Writing Place, as well as student satisfaction with the assistance received, which encouraged them to return in subsequent years of study.
"At-risk"' and "Underperforming" students seen at the Writing Place
Of the 3 722 students seen at the Writing Place in 2018 and 2019, 663 students were identified as either "at-risk" or "underperforming", as determined by the "robot system". It is encouraging that these students, who are most in need of support, are in fact attending Writing Place consultations and seeking assistance with their academic writing. It is hoped that this will help them to perform well in their assignments, pass their modules and complete their degrees more timeously.
Writing Place workshops
Approximately 50 workshops were facilitated by Writing Place tutors in 2018 and 2019. This was certainly an achievement and yet again pointed to increased awareness and demand for academic literacy support in the College. The majority of workshops conducted focused on academic writing and referencing, while some specific topics requested by lecturers were, for example, "How to write a case study", "Writing under time constraints" and "How to write a research paper".
Student evaluations of Writing Place consultations
Student evaluations of Writing Place consultations indicate that the majority of students found tutors to be patient, helpful and knowledgeable about academic writing conventions. Some comments made about the consultation with a Writing Place tutor were:
"Writing Place is helpful and every student should go there for assignments.."
"Linking paragraphs and sentence construction – the tutor helped me to
understand how to do this."
"I wish we could spend more time with the tutor so that we get even more feedback."
While this very basic analysis is by no means exhaustive, it is useful to have this type of quantitative information to support the students' perceptions from the evaluation forms – that they believe that their performance does improve in assignments for which they visit the Writing Place.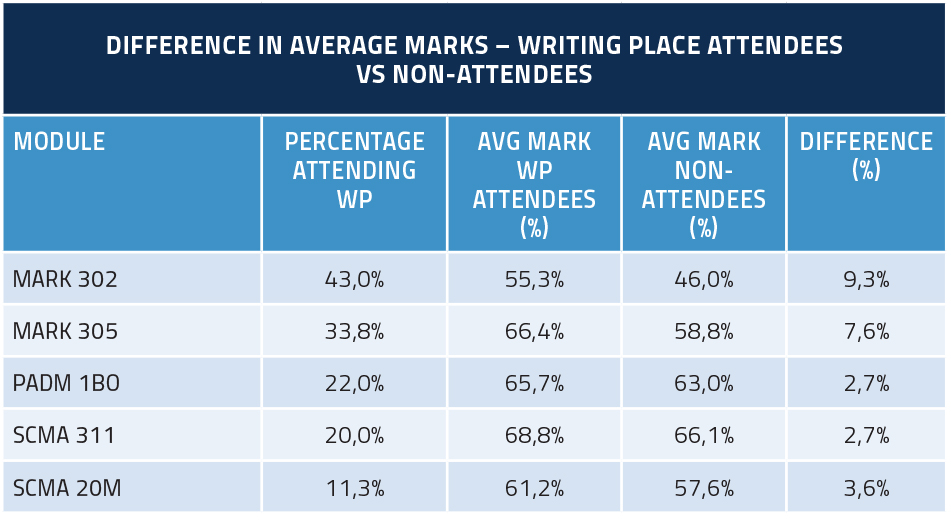 Table 13. Difference in average marks – Writing Place attendees vs non-attendees
Academic Monitoring and Support Programme
Fourteen ADOs and two ADCs were appointed in 2018. One of the fundamental duties of an ADO is to help students "at risk" move to good academic standing. To fulfil this duty, the ADO dedicates 20 hours per week to students. Seven hours were allocated to conducting tutorials, the rest of the hours were split between one-on-one consultations, group consultations and revision sessions at Howard College and Westville campus.
Approximately 3 850 students were seen by the ADOs, through individual counselling, tutorials and group counselling. Preliminary evidence suggests that those who consulted with the ADO had a higher pass rate than those who did not. (See Table below.)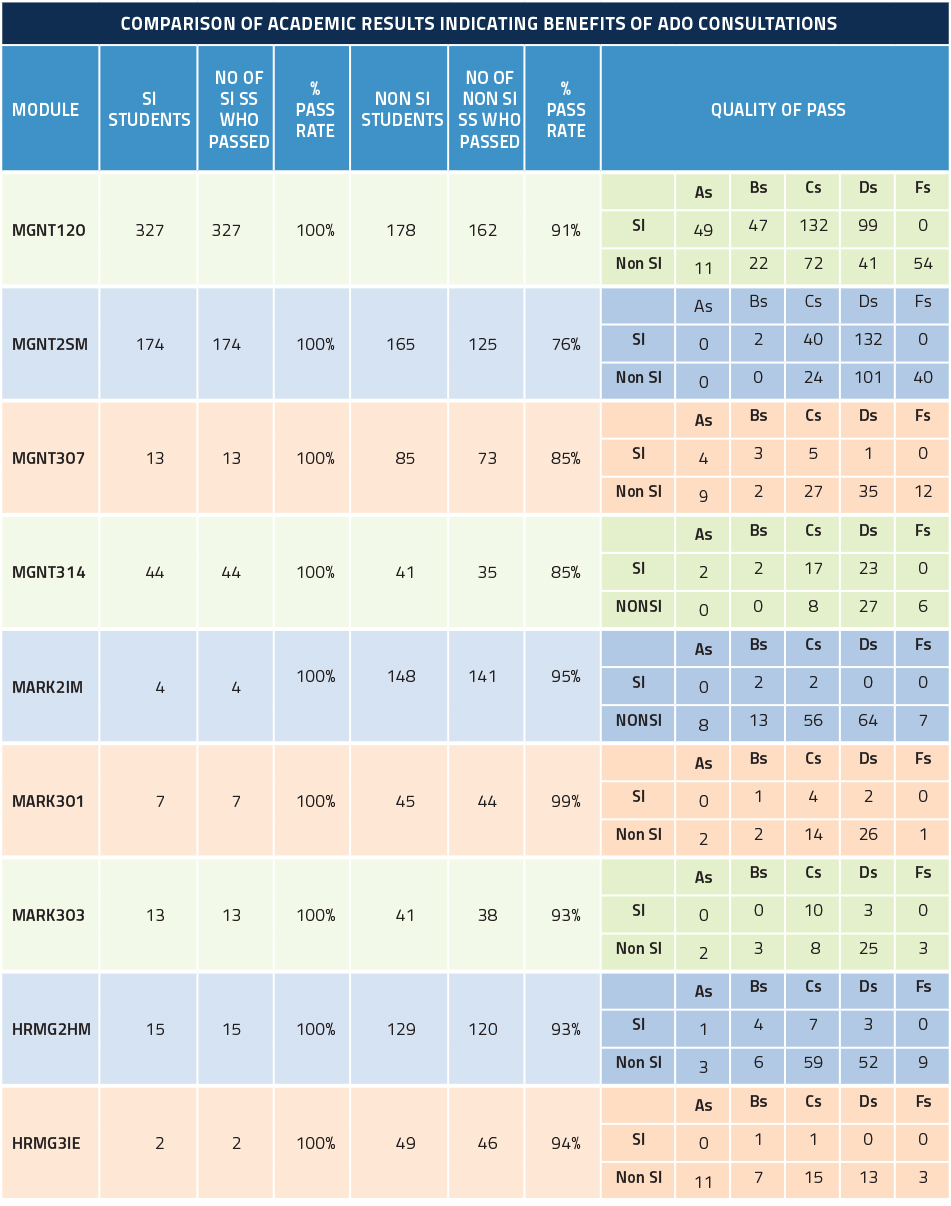 Table 14. Preliminary Evidence indicates students have higher pass rate after ADO consultation
Blended Learning Project – 2018
The objective of the blended learning project was to: educate and empower lecturers to teach effectively in the digital age. In order to achieve this, a three-fold approach was adopted based on Simon Sinek's Golden Circles model. The first is to address "why" the training is so important (motivation), then "what" is possible (destination), and finally "how" to achieve the goal (process).
The first step was a one-hour seminar that was open to everyone (including people from other Colleges) on "Teaching with Technology". Four of these were held across the various campuses. The objective of this seminar was to help lecturers understand why they needed to teach in a new way and how important it was to follow a pedagogically grounded approach.
After the seminars, the second step was to run a longer, hands-on workshop with those who were interested in learning more. The aim of the workshop was to expose those who were motivated to learn to see what is possible when teaching using technology in a pedagogically-based way. By the end of the seminars and workshops 189 staff members from across all Colleges and campuses had attended, and there was a groundswell of excitement to start learning how to implement the teaching.
The final step was to bring a sample group of lecturers through an online course (MOOC) that would show them how to teach with technology. The course was eight weeks long and had the lecturers learning how to use a range of tools, all based on a sound underpinning pedagogical model. A cohort of 20 lecturers completed the first course, producing 52 lesson plans designed to enable them to immediately apply their learning in the classroom.
The numbers only tell part of the story. Even more exciting were the testimonials of the lecturers who attended.
Thank you. We are often pressed to use tech in our teaching, but no-one teaches us HOW…
This has been the most edifying and productive workshop that I have attended in a long time. The presenter was engaging, witty and exceptionally passionate about the material he presented and shared with us. I have already implemented what I had learnt in the previous seminar in my classes and they have been really well received. I am so keen to learn more. Thank you.
Thank-you for the very engaging and interesting workshop. One of the best educator training sessions I've ever been to. Was interesting, relevant and the way forward with it was clear.
I've been searching for practical ways of implementing active learning in my classroom, I now found the "activated" way
I loved it! The course got me @ctivated so that I can now go and @ctivate my own course.
This ACT MOOC was the most incredible course. Not only was it interesting, engaging and topical, but it was also practical! The assignments made a meaningful contribution to being able to make the jump from the theoretical to the practical. Highly recommended!
This course is awesome! It makes me excited about teaching and I am confident that my students will become excited about ACTivating their learning experience.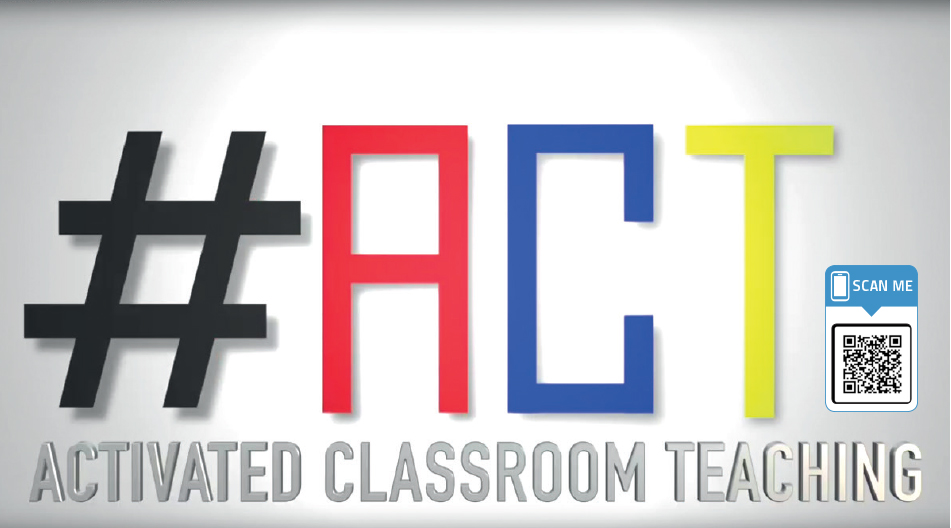 The ACT video combines feedback from lecturers and footage of a student seminar to demonstrate the effectiveness of using technology to teach.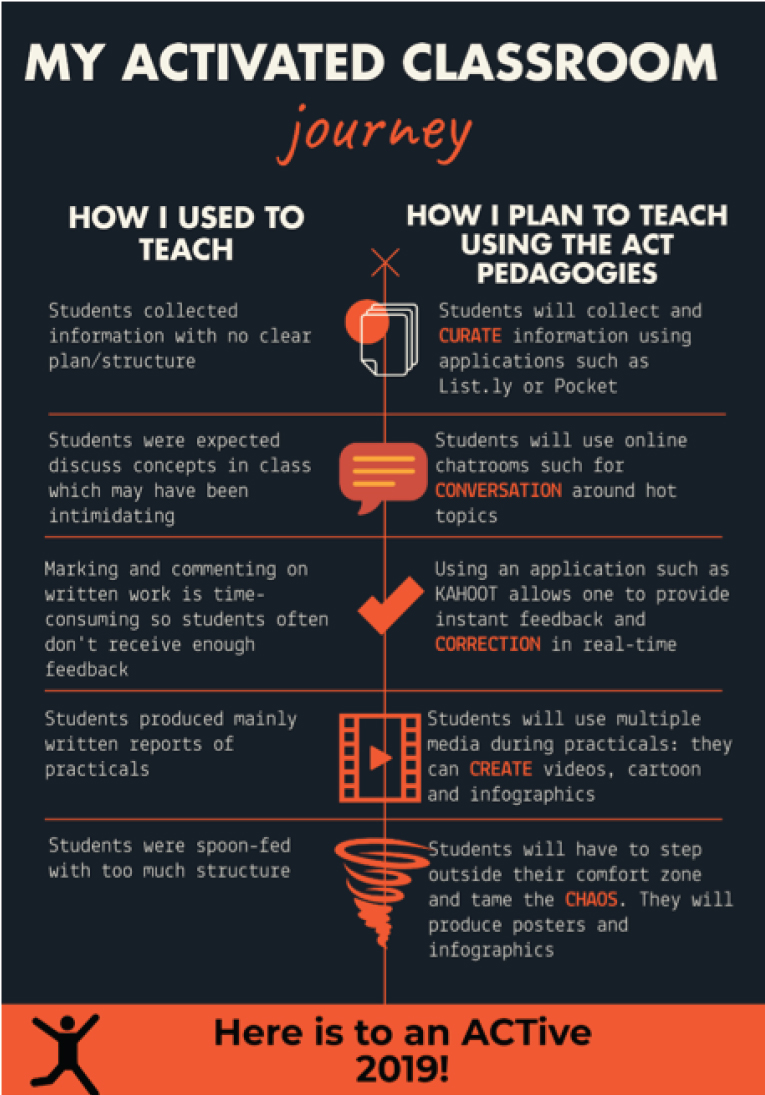 In this poster designed by a lecturer, infographics enhance students' learning.
Community Engagement
Helping pupils succeed
On Youth Day, 1 064 grade 12 pupils from Durban high schools benefitted from an accounting examination workshop run by UKZN academic, Dr Msizi Mkhize from the School of Accounting, Economics and Finance. The workshop sought to equip the pupils with step-by-step guides and revision techniques. The workshop was also attended by teachers in a bid to learn new teaching methods.
The accounting teachers who attended the workshop indicated that it was an eye opener, as they learned new approaches of teaching accounting, and they called on UKZN to offer training and workshops for all accounting teachers in KZN. "As an accounting lecturer, I wanted to show the pupils our unique lecturing methods and infrastructure so that they make this institution their first choice when applying for post-matric studies," said Mkhize.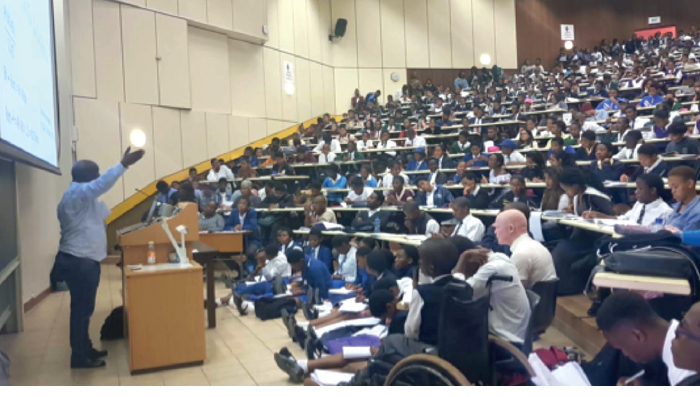 Dr Msizi Mkhize, School of Accounting, Economics and Finance academic, delivering an accounting lecture to a venue packed with grade 12 pupils.
Pupils said the workshop was informative, helpful and interactive. Mr Sbonelo Dlamini, a pupil from Amanzimtoti High School, said the workshop strengthened his basic accounting techniques and he found Mkhize's unique approach inspiring, adding that he looked forward to pursuing his BCom studies at UKZN, to which he has already applied.
Ms Ntombizonke Khoza, a pupil at Dassenhoek High School, said, "The session helped me understand things that were puzzling me, as well as new methods, and I am glad because I felt like I was going to fail accounting but now I am hopeful that I can manage. I would like to thank Dr Mkhize and UKZN for this opportunity."
Thuthuka Bursaries for UKZN BCom Accounting students
After a rigorous review process by the South African Institute of Chartered Accountants (SAICA), UKZN's School of Accounting, Economics and Finance (SAEF) has welcomed 15 Thuthuka Bursary Fund (TBF) recipients into its Accounting programme. The Thuthuka Bursary programme is a transformation initiative of accountants aimed at encouraging previously disadvantaged African pupils to pursue a career in Chartered Accountancy (CA).
The Accounting profession is under immense pressure to produce African chartered accountants, which seems to be a challenge, judging by the throughput in the past few years. UKZN has additional support systems in place to help accounting students academically, socially and professionally with the aim of bridging the throughput gap.
Accounting lecturer and UKZN Bursary Fund Programme Manager, Ms Hlengiwe Ndlela, said she was responsible for the planning, designing and implementation of support programmes to help students on their academic journey, with the aim of enhancing their chances of graduating in record time and ultimately becoming CAs.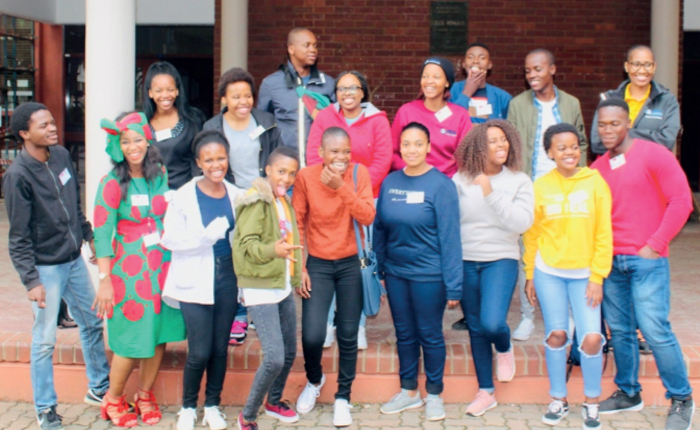 Thuthuka Bursary Fund recipients and UKZN programme manager Hlengiwe Ndlela during Orientation Week
"The Dean and Head of School, Professor Mabutho Sibanda, has been hands-on in providing a lot of support and approaching senior management in departments within the institution for assistance," said Ndlela.
"We are currently giving first-year academics guidance and support, working closely with Teaching & Learning Academic Leader, Dr Msizi Mkhize."
The recipients spent the last week of January involved in an orientation programme where they received practical tips on "how to survive" and achieve success during their academic career, participated in team-building activities and heard success stories from African CAs who faced early challenges in their studies and careers.
In 2018 UKZN BCom Accounting students sacrificed Saturdays for FASSET and Thuthuka academic support classes in four major subjects – Accounting, Auditing, Management Accounting and Taxation with Ms Gugu Makhanya, Senior Executive at South African Institute of Chartered Accountants.
Accounting Academic Encourages Students in Maths Day Initiative
Falling in love with Maths was the focus at Embizweni High School in Umlazi Township for Valentine's Day 2018. Financial Accounting lecturer Dr Msizi Mkhize and his son Mr Siphesihle Mkhize, a Master of Commerce student, shared their passion for the subject with scores of pupils and celebrated the Love Maths Day.
The event, attended by approximately 1 180 learners, was held to create a positive attitude towards the Mathematics discipline among high school pupils.
Dr Mkhize, from the School of Accounting, Economics and Finance (SAEF), started this initiative at Inanda Comprehensive High School in 2017. After the event, he shared his enthusiasm at being able to work with his son for the first time, saying he aims to see the programme expanded to other parts of KwaZulu-Natal with support from the Department of Basic Education.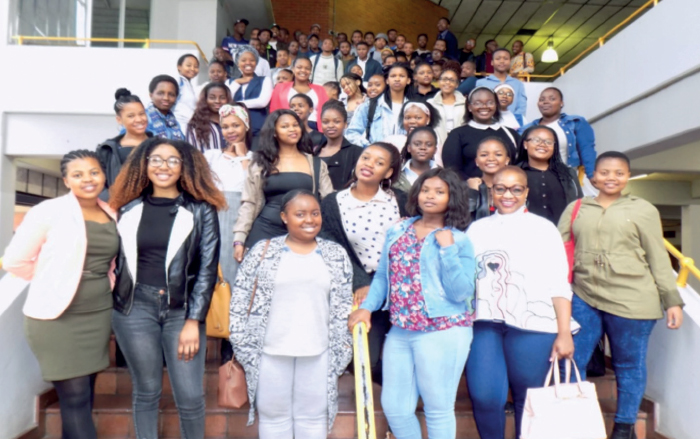 UKZN BCom Accounting students with Ms Gugu Makhanya (carrying a bag), Senior Executive at SAICA.
The father and son duo provided the learners with an entertaining presentation that left them amazed at how Maths can be used in their daily lives and in other subjects such as history and geography. Dr Mkhize gave one of the learners, Ms Hloniphile Buthelezi, a R50 note which she used to describe the factors and multiples of 50, while mentioning all the properties of a quadrilateral rectangle. With the R50 note bearing the face of former President Nelson Mandela, she gave her peers a short history lesson on how Mandela was imprisoned for 27 years on Robben Island, keeping the money as a monetary reward.
Mkhize said getting positive feedback from learners, parents and teachers inspires him to give back to the community by instilling a passion for Maths in the hearts and minds of young people.
"After adopting Inanda Comprehensive High School, the school's pass rate increased to 90%. I was able to move one of the learner's Mathematics pass mark from 10% to 66% in the 2017 final examinations. The student is now doing a Bachelor of Commerce in Accounting at UKZN Westville campus,"' he said.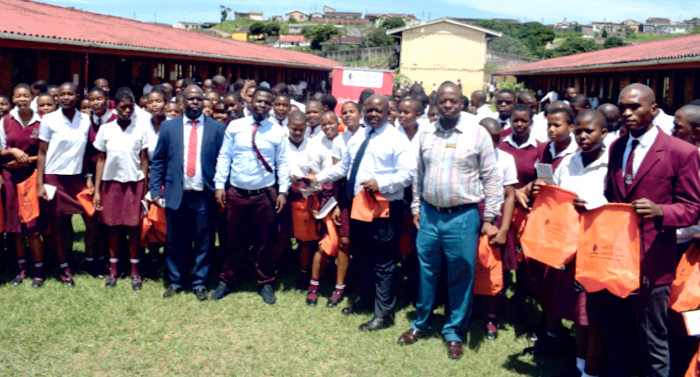 Maths Day Participants at Embizweni High School in Umlazi – 14 February 2018
Siphesihle said he enjoyed working with his father, adding that this was a one-of-a-kind experience that he will never forget, "My father has been in love with Mathematics from a very young age and would teach us (as his children), how to find different ways to solve problems, allowing me to love the subject in my primary and high school years," he said.
Guest speaker Mr Vukile Buthelezi, Umlazi District's Mathematics Advisor at the Department of Education, said the presentation was motivational for the pupils, adding that he hoped it would change the negative attitude they may have towards mathematics.
"If you are used to playing with something at a young age, when it comes time to do it properly it becomes easy. So if Dr Mkhize can play around with Maths the way he does, then it is possible for us to pass it at the end of the year," said Grade 12 learner Mr Ayanda Memela.
Publications
2017
Paideya, V., & Bengesai, A V. Academic Support at the University of KwaZulu-Natal: A Systematic Review of Peer-Reviewed Journal Articles, 2010–2015. Journal of Student Affairs in Africa, 5(2) 2017, 55–74
2018
Bengesai, A. V., & Paideya, V. (2018). An analysis of academic and institutional factors affecting graduation among engineering students at a South African university. African Journal of Research in Mathematics, Science and Technology Education, 22(2), 137-148.
Mkhize, M. Transdisciplinary relationship between mathematics and accounting. The Journal for Transdisciplinary Research in Southern Africa, 15(1) 1-18 (a451. https://doi.org/10.4102/ td.v15i1.451).
2019
Goebel, J., & Maistry S. Recounting the role of emotions in learning economics: using the Threshold Concepts Framework to explore affective dimensions of students' learning. International Review of Economics Education, 30 (1) 1-13 (DOI: 10.1016/j.iree.2018.08.001).
Mkhize, M. Mathematics anxiety among pre-service accounting teachers. South African Journal of Education, 39(3) 1-14 (https://doi.org/10.15700/saje.v39n3a1516)